DTF Insider
What are the advantages and disadvantages of Heat transfer printing?
Apr 20, 2023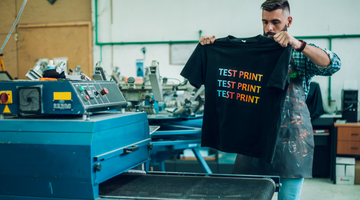 Are you interested in creating your own t-shirt designs rather than purchasing prepared ones from online and offline stores?
Then you can experiment with heat transfer printing!
Modern printing methods have advanced significantly over the years. Printing techniques are now available that can print not only on paper but also on metals, plastic, wood, and fabric. Check out the previous link if you're seeking some of the top heat transfer printers. 
The heat transfer printing method is a relatively new one. It's extremely similar to other printing methods like screen printing or sublimation printing.
Heat transfer printing is a relatively inexpensive and extremely rewarding pastime and enterprise, but it can also be a time-consuming procedure. If you're wondering how to print on heat transfer vinyl using an inkjet printer or how much heat transfer paper costs, check out our prior articles to get you started.
Listen, understanding heat transfer printing and learning the advantages and disadvantages of it is not as difficult as selecting the best trigonometry calculator when your exam is a few days away. If you're still undecided, let's go over the various benefits and drawbacks of heat transfer printing in this tutorial; we'll have a great time!
What is Heat Transfer Printing?
Before we get into the advantages and disadvantages of heat transfers, it's important to understand what heat transfer printing is.
When compared to screen printing, this form of printing is relatively recent and has grown in popularity over the previous few decades. It entails transferring designs and artwork from one surface to another using heat and pressure.
Heat transfer is a printing technique that allows you to print a design onto a piece of clothing or an object. It is also known as thermal printing, thermal-transfer printing, and thermal-wax transfer.
Heat transfer printing transfers an image made in wax to an item or garment using the method of heat. This printing method can be used to generate an image by layering wax dye onto an object or using pre-painted graphics on a wax sheet.
What is the Process of Heat Transfer Printing?
The majority of heat transfer presses transfer prints to substrates such as paper, textiles, or ceramics. However, this method is quite versatile because the heat press machine can be used on a variety of materials other than the ones listed above. However, as compared to processes such as screen printing, this complicates heat transfer printing.
Also Read: T-Shirt Transfer Sheets : Customization Made Easy
The pattern is initially printed on heat transfer paper, a unique type of paper that is vital to the procedure. It usually has a wax coating, which gives it a relatively smooth surface, making it an ideal medium for transferring ink. 
Heat press machines are used to transfer the prints on the paper to a suitable substrate. To transfer the print, they use heat and high pressure for a set amount of time.
Now that you understand what heat transfer printing is and how it works, let's have a look at some of its advantages and disadvantages.
What are the advantages of Heat Transfer Printing?
Cost effective
Heat transfer prints are significantly less expensive than other equivalent technologies such as screen printing. As previously stated, you may print on heat transfer papers with any current inkjet or laser printer.
Furthermore, the heat press machine is reasonably priced. Because of these advantages, the unit cost of printing a t-shirt using this method is much cheaper.
As a result, it is an excellent printing process for small enterprises and aspiring young artists looking to start their own t-shirt printing business. Because they may not have a large budget, this is the greatest way for them to get started!
Good quality
The print designs created are of exceptional quality due to the high temperatures and pressures employed in heat transfer equipment. As a result, you may use this printing technology to create elaborate and vibrant designs on t-shirts.
This is advantageous for small enterprises and emerging artists. It enables them to print intricate graphics and numerous colors with excellent results at a low cost.
Versatile
When compared to screen printing or sublimation printing, which use a similar approach, heat transfer is a more adaptable process. It may be used to print on cloth as well as other materials like plastic, porcelain, and glass. Printing on any custom object becomes tremendously simple and convenient when utilizing this method.
All you have to do is print an appropriate image on heat transfer paper. The heat press machine will then be able to embed the pattern on the material of your choice.
Furthermore, because the heat press machine is modest in size, it takes up very little space. As a result, you can more effectively use the remaining space in your printing studio for other printing tasks.
User friendly
Heat transfers are also quite user-friendly, especially when compared to traditional printing procedures. You may print on the transfer paper with a regular printer, which is relatively simple.
Furthermore, the heat transfer machine is quite simple to use, so you will be up and running in no time. In other words, even if you have no prior printing knowledge, you may quickly create heat transfer prints.
What are the disadvantages of Heat Transfer Printing?
Time consuming
The method of heat transfer is relatively more time-consuming compared to screen printing or any other conventional printing techniques. That is because you need to follow a two-step process. You first have to print the design on the heat transfer paper before transferring it to the desired material.
Furthermore, the duration of heat pressing lengthens this process. After all, the heat transfer machine needs some time to transfer the design from the paper to the substrate!
Also Read: Screen Print vs DTF Transfers: What's the Difference?
The Prints Fade Easily
Heat transfer prints are not as long-lasting as sublimation prints. They may fade away after a while, especially if the fabric has been machine washed several times.
This is because the heat transfer prints generate a layer on top of it. Sublimation prints, on the other hand, become a part of the fabric and do not fade as rapidly.
Not Suitable For Printing High Volumes
Despite their versatility and ease of use, heat transfers cannot be utilized to print large quantities of items. Established technologies, such as screen printing, are more suited for this purpose.
This is due to the fact that printing even one object using this method takes a long time, as we explained in the preceding paragraph. Aside from that, bulk heat transfer printing necessitates a large amount of ink, paper, and other resources. As a result, in such instances, it will not be economically possible.
Wrapping Up
And there are some of the benefits and drawbacks of the heat transfer technology. This method is clearly useful for printing t-shirts, mugs, and other products, but it has limitations.
So, if you want to establish your own print firm, keep these factors in mind. Weighing the benefits and drawbacks should help you decide how to effectively set up your business to maximize profits.
If your target audience is tiny, this printing process will be advantageous. However, if you want to print in mass, you should consider other methods, such as screen printing.