DTF Insider
T-Shirt Transfer Sheets : Customization Made Easy
May 16, 2023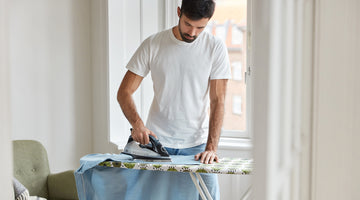 Transfer paper is sometimes known as t-shirt paper because it is commonly used to transfer letters, numbers, and graphics (or a mix of these) onto garments.
However, the use of transfer paper is not restricted to t-shirts. It may be used to transfer pictures onto different textiles such as cotton bags, aprons, tablecloths, pillows, and even hard surfaces such as wood.
You can learn to use transfer paper in minutes if you've never used it before. Follow our short tutorial below to learn how to properly print your image on transfer paper.
I'm assuming in this lesson that you've previously developed the artwork you want to print on your transfer paper. So I'll go right to it and show you how to prepare the image and print it on the transfer sheet.
Specific Printer Ink
Many novices are perplexed about which ink to use with their t-shirt transfer sheets. Unbeknownst to them, their anxiety is unjustified, as any pen will suffice. The most important factor in a good transfer procedure is the paper you use, not the ink.
As a result, there is no acceptable ink for transfer paper if you use an inkjet printer.
What are the different types of Transfer Paper?
Transfer papers are classified into two types: bright papers and dark papers. It is critical that you select the appropriate paper based on the color of the substrate you plan to print on.
When applied on white and other light colored textiles, photographs printed on light transfer paper tend to give a more colorful and realistic image. The ink is transparent and cannot be seen unless it is placed on a white or extremely light colored surface.
Dark textiles, on the other hand, necessitate the use of the dark transfer paper. A white backdrop is transferred with the ink on such paper, thereby blocking the color of your cloth from coming through the ink.
As a result, because the graphics will emerge on your shirt once the transfer procedure is complete, they tend to behave as block pictures or images that the white area can chop away.
Using The Transfer Paper
So your artwork is finished. You have a working inkjet printer and the appropriate transfer paper for the job. What comes next?
The next step should be to print the image on paper.
Reverse Your Artwork First!
Begin by mirroring or inverting your image (if it contains numbers or text). Most people overlook this stage, and you can guess what happens to the final result. You must invert your image before printing it in mirror mode.
The picture will be put face down on your clothing and will display correctly when heat transferred. If you're using dark transfer paper, make sure your picture is facing up on your shirt before transferring it. This eliminates the need to invert your image.
The reverse procedure is straightforward and may be accomplished directly from your printer's settings or by using a basic image editing software.
Printing On Your Transfer Paper
You want to make certain that your picture is print-ready and will appear exactly how you want it to when printed on the shirt. As a result, print a sample of the picture on regular paper before printing it on transfer paper.
This allows you to check if the complete image will be reproduced or if any areas will be taken off. It also allows you to see if the image will look the same on paper as it does on the desktop.
When you're completely happy with your image, print it on the appropriate side of your transfer. This area is normally labelled, but if there aren't any, make sure you print on the coated side.
After successfully printing the picture, use a heat press t-shirt printing equipment to transfer it to your clothing.
Important: Make sure the transfer paper (with the picture) is face down on your clothing so that the end product looks as desired. Remember to place your paper appropriately to ensure that the picture is transferred to the correct portion of your shirt. 
What are the common mistakes to avoid when using Transfer Paper?
Remember to flip the image before printing it on transfer paper.
Make certain that you print on the right side of the transfer paper (the coated side).
Make certain that you get the appropriate paper for the color of your cloth.
Before printing on transfer paper, perform a test print to identify and correct any faults with your artwork.
Final Thoughts
While learning to print on heat transfer paper is technically simple, it may be a rewarding experience in and of itself. Some people are frequently perplexed by seemingly little details.
Learning how to print on transfer paper can open up a whole new world of opportunities for you. It's worth the time and effort (as well as some sacrificial shirts and heat transfer paper) to learn this technique. Apart from the ability to customize the graphic design on your shirts or any other clothing material, printing on t-shirt transfer paper will make the procedure easier for you.
Of course, you can learn how to print on a t-shirt without using transfer paper, but the precision of printed transfers should be enough to persuade you that this is a more efficient method of printing personalized designs.
One thing we must point out is that an ink-jet printer is ideal for this sort of job, so put your laser printer away for the time being.
The above instruction leads you through the fundamentals of a transfer and how to effectively print your image on the appropriate paper. We believe that it is a really straightforward method on how to print on t-shirt transfer paper that everyone, especially novices, should try out.
If you follow this method, transferring all of your artwork to transfer paper and prepping it for printing will be a breeze.
Make a bookmark of this post and return to it before beginning your project to ensure you have covered all of the bases.